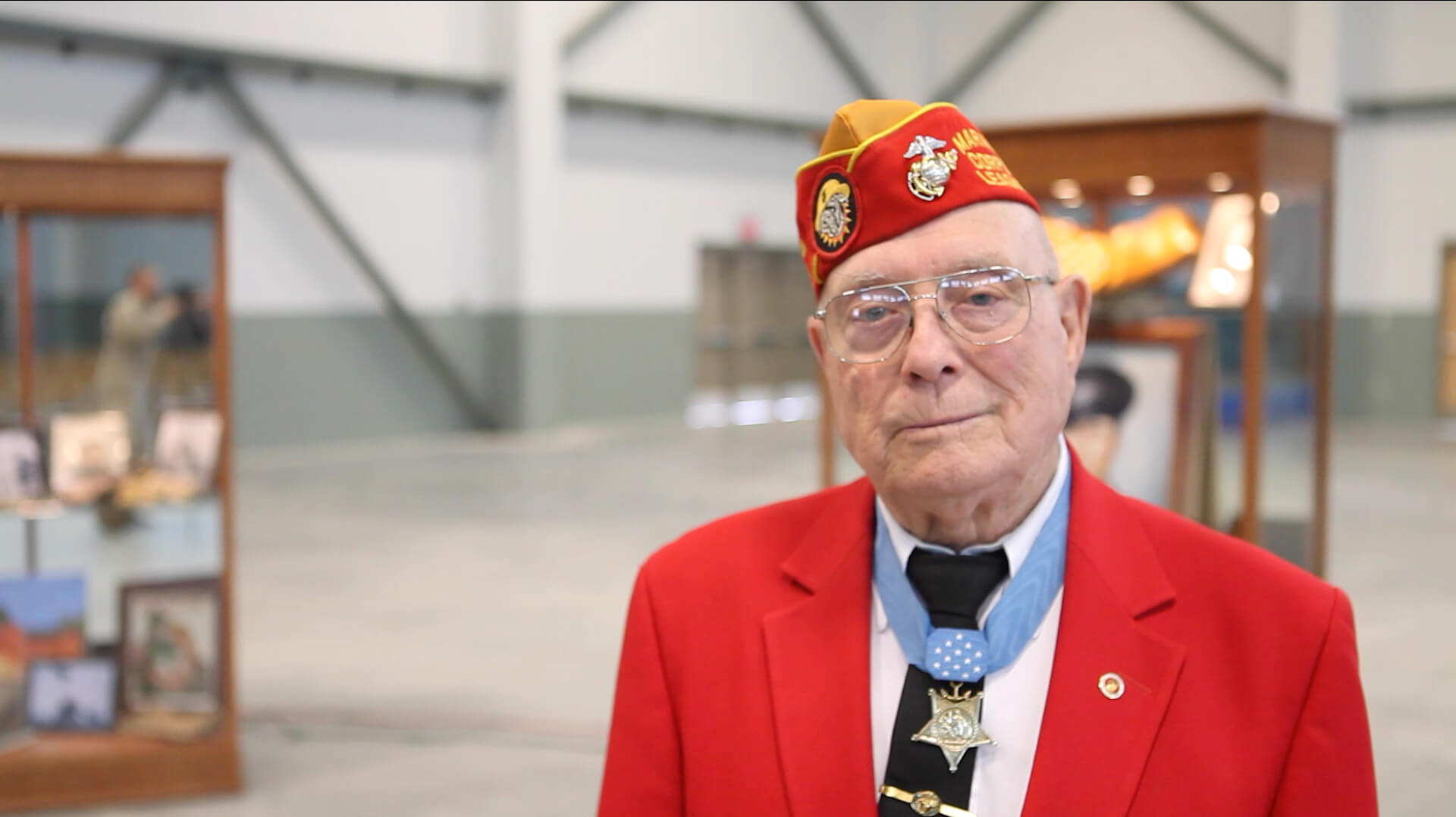 On January 14th, 2016, in a ceremony in Charleston, West Virginia, Ray Mabus, Secretary of the Navy, announced that the newest expeditionary sea base (ESB) ship T-ESB 4 would be named the USNS Hershel "Woody" Williams.
Born in Fairmont, West Virginia, Mr. Williams joined the U.S. Marine Corps following the attack on Pearl Harbor. Initially, he was turned away from the U.S. military because he was too short. However, he kept pushing and enlisted with the Marine Corps Reserve in Charleston, West Virginia. In the months that followed, he found himself as a member of the 21st Marines, 3d Marine Division in action against the Japanese forces on Iwo Jima.
On February 23rd, 1945, Corporal Williams was quick to volunteer his services when U.S. tanks were maneuvering to open a lane for the infantry through the network of reinforced concrete pillboxes, buried mines and black volcanic sands. He daringly went forward alone to attempt the reduction of devastating machine gun fire from the unyielding positions. Covered only by four riflemen, he fought desperately for four hours under terrific enemy small-arms fire and repeatedly returned to his own lines to prepare demolition charges and obtain serviced flamethrowers, struggling back, frequently to the rear of hostile emplacements, to wipe out one position after another. On one occasion, he daringly mounted a pillbox to insert the nozzle of his flamethrower through the air vent, killing the occupants and silencing the gun. On another, he grimly charged enemy riflemen who attempted to stop him with bayonets and destroyed them with a burst of flame from his weapon. His unyielding determination and extraordinary heroism in the face of ruthless enemy resistance were directly instrumental in neutralizing one of the most fanatically defended Japanese strong points encountered by is regiment and aided vitally in enabling his company to reach its objective. Corporal Williams' aggressive fighting spirit and valiant devotion throughout this fiercely contested action sustained and enhanced the highest traditions of the U.S. Naval Service.
On October 5th, 1945, President Harry S. Truman presented the Medal of Honor to Corporal Williams. The Medal of Honor is the highest award for valor in action against an enemy force which can be bestowed upon an individual serving in the Armed Services of the United States.
Today, Mr. Williams is a very vibrant and robust 92 year-old living in Ona, West Virginia. He continues to stay actively involved and his current project is to lead the charge to have a memorial to Gold Star Families – those families who have lost sons and daughters in service to their country – in every state.
FCX Systems congratulates and honors West Virginia's own Hershel "Woody' Williams for being the hero he was on Iwo Jima in 1945 and for the continuing to give of himself to others every day of the week.
THANK YOU MR. HERSHEL "WOODY" WILLIAMS – you have made every West Virginian and American proud.