Solid-State Frequency Converter for a Floating Dry Dock.
In 2008, a large floating dry dock – containing motor loads for cranes, capstans, ballast pumps and fire pumps – was transported to the Grand Bahama Shipyard. The dry dock required 50 Hz power, while the Bahamas utilizes 60 Hz power.
To supply the 50 Hz power needed for the dry dock, two 1000 KVA Caterpillar diesel generators were required. A solid-state frequency converter running off the utility solved this problem.
The second challenge was designing, building and testing a solid-state frequency converter that was rated 2000 KVA and was capable of operating large inductive loads.
FCX engineered the converter to use low frequency-switching to reduce losses. An input voltage of 12.7 KV and an output voltage of 20 KV helped reduce wire costs between the converter and the dry dock.
Two units were manufactured by FCX and the dry dock was electrically divided down the middle. At that time, the dual units comprised the world's largest solid-state frequency converter.
The two 2000 KVA units may be paralleled at a future date.
Shore Power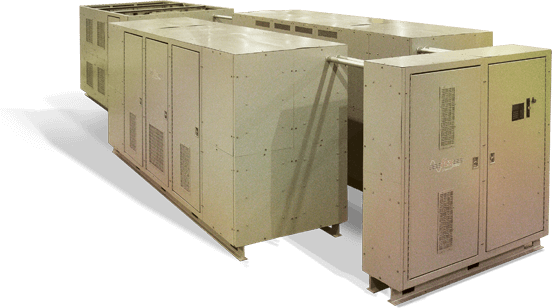 The FCX Shore power solution dramatically reduces ship emissions as well as noise and vibration from ships in port . . . at a lower operating and maintenance cost than motor generator sets or running the ship's motors. Safe and reliable power is seamlessly transferred from the public electric power grid to the ship while in port, regardless of ship electrical design. Using the most advanced solid-state technology available, FCX produces all aspects of large KVA Frequency Conversion Systems to convert any conventional electrical power to either 60 Hz or 50 Hz power for dock applications. Suitable For: Container Terminals and City Ports Cruise and Container Ships, Ro-Ro Vessels and LNG Carriers Single and Multiple Frequency Applications Single and Multiple Berth Configurations Dry Dock Applications