DC Power Supplies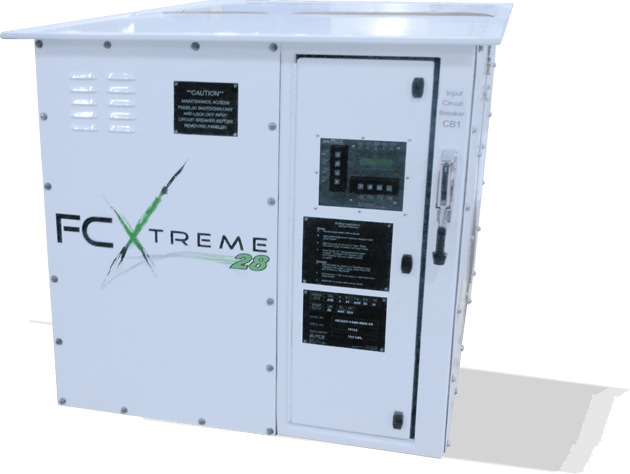 FCX solid-state power supplies provide regulated 28.5VDC power with minimal noise. The power supplies are equipped with an adjustable current limiting feature for engine starting. Each model is designed with high power SCR modules to allow for precise control of the output voltage. The units also have soft start to allow the power supply to ramp to nominal output voltage. Power supplies are built in a mobile NEMA 3R equivalent enclosure for easy installation for interior and exterior environments.
Output voltage adjustment (via keypad)

Output line drop compensation adjustment (via keypad)

Input circuit breaker with door interlocks

2 line LED display

Status indicators for: Power Available, Supply On, Summary Fault, Output Voltage and Current

Operating temperature: -20ºC to 50ºC

Current limiting option available

Weight 650 pounds (295 kg)

Controls: Start, Stop/Restart, Output On, Output Off

Active DC Energy Management System

Compact design

Superior voltage regulation

Line drop compensation

Simple operator controls

User friendly

208, 220, 380, 415, 480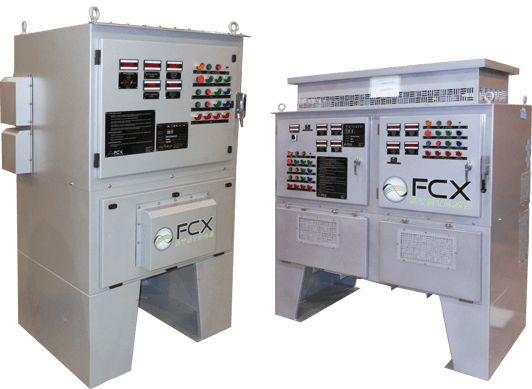 The performance of FCX Systems 270 VDC Power is flight line and production line proven - we are 270 VDC from the ground up. Installation sites include main production and test sites, such as: Lockheed Martin F-35 Assembly in Fort Worth TX, Navy F-35 T&E NAS Patuxent River MD, and JSF ITF Facility at Edwards AFB CA. FCX Systems precision 270 VDC equipment is the preferred and best power of choice for all 270 VDC applications.
BENEFITS OF 270 VDC IN THE AVIATION INDUSTRY
Most experienced designer, manufacturer, and supporter of 270 VDC ground power systems.

FCX offers 270 VDC for every application, and can meet the high dynamic response required by the F-35 and F-22.

Monitor and protect your aircraft and other sensitive loads from transients and abnormal power conditions.

FCX 270 VDC power delivers precise regulation, rapid response and recovery - built to perform, and to last.

"It was a pleasure testing a product that easily met or exceeded all requirements and expectations." - Lockheed Martin F-22 Ground Power Qualification Test Manager.

We offer a wide variety of unit ratings and configurations - standard and custom. Please contact us anytime at sales@fcxinc.com with your requirements.
Contact Us