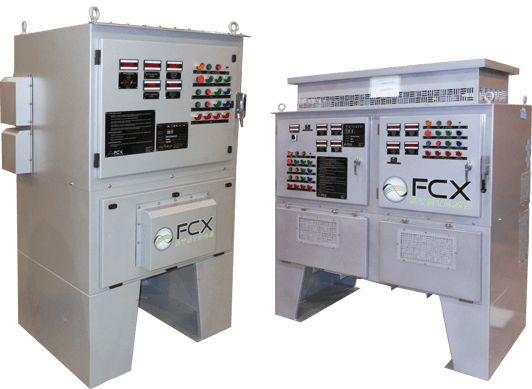 The performance of FCX Systems 270 VDC Power is flight line and production line proven - we are 270 VDC from the ground up. Installation sites include main production and test sites, such as: Lockheed Martin F-35 Assembly in Fort Worth TX, Navy F-35 T&E NAS Patuxent River MD, and JSF ITF Facility at Edwards AFB CA. FCX Systems precision 270 VDC equipment is the preferred and best power of choice for all 270 VDC applications.
BENEFITS OF 270 VDC IN THE AVIATION INDUSTRY
Most experienced designer, manufacturer, and supporter of 270 VDC ground power systems.

FCX offers 270 VDC for every application, and can meet the high dynamic response required by the F-35 and F-22.

Monitor and protect your aircraft and other sensitive loads from transients and abnormal power conditions.

FCX 270 VDC power delivers precise regulation, rapid response and recovery - built to perform, and to last.

"It was a pleasure testing a product that easily met or exceeded all requirements and expectations." - Lockheed Martin F-22 Ground Power Qualification Test Manager.

We offer a wide variety of unit ratings and configurations - standard and custom. Please contact us anytime at sales@fcxinc.com with your requirements.
Environment

Operating Temperature:

0˚C - 50˚C

Relative Humidity :

0 - 95%

Basic hanger base unit rating:

indoor/outdoor environments

Codes and Standards

ANSI C2 National Electric Safety Code

IEEE C62.41 Surge Suppression for AC Power

NEMA-250 Enclosures for Electrical Equipment

NEMA ST20 Transformer Applications

NFPA 70 National Electric Code

UL-508 Industrial Control Equipment

MIL-STD 704F Aircraft Power Characteristics

MIL-W1687D Wire, Electrical, Insulation-Gen Specs

C39.1-81 Requirements for Indicating Instruments