In an earlier blog I explained why aircraft and most military equipment was powered by 400 Hz (cycle) power. This included the statement that this standard was worldwide. Wherever you fly there will be a 400 Hz power source available with a standard plug that fits your aircraft. Well almost. There are a few exceptions. Smaller & older aircraft use a 28 VDC system and smaller airports may only have a 28 VDC power source. So actually, we have two standards although the 400 Hz system is the workhorse of commercial & military aviation where high power is required.
During the last 16 years there has been a growing usage of a third system using 270 VDC. The 270 VDC system for aviation was first defined in MIL-STD-704B 17 Nov. 1975. Battery systems in this voltage area had been utilized in submarines since 1900.
The old reason for the 270 VDC system was increased power density and capacity.
The new interest is due to stealth concerns and design changes in modern fighter aircraft

Alternating current systems such as 400 Hz are not as stealthy as Direct Current (DC).
Although the 270 VDC military specification introduced in 1975 and last updated in 2004 (MIL-STD-704F) is still in effect, it does not contain all the requirements needed for the modern 270 VDC fighter aircraft.
The new generation aircraft, specifically the F/A-22 Raptor and the JSF (Joint Strike Fighter) F-35 Lightning, require a system that is more precise, has faster response, and is tailored to the specific requirements of the aircraft manufacturer. Simply put, although this is a 270 VDC system, the requirements define a power supply that far exceeds the old 2004 MIL-STD-704F performance. This required the creation of a 270 VDC system specific to the new aircraft.
The previous generation of fighter aircraft used a dual hydraulic system to move the flight control surfaces. This presented a large vulnerability should the aircraft suffer damage and fluid loss.
Newer aircraft now utilize multiple electrically driven hydraulic actuators at each control surface. This now requires the electrical system to respond to rapid load changes while maintaining a constant voltage.

Radar systems require more pulse power while the voltage stays constant.

The aircraft 270 VDC power system is ideally suited to meet all these demands. The performance of the on board power is matched by the performance of the external power supply built by FCX Systems. This allows full maintenance including flight control response tests to be performed inside the hangar.
The FCX external power supplies are tested for voltage stability and recovery at various load configurations, transitions and pulse loading. The power supply performance is recorded and examined for voltage transient response during the loading criteria to insure that voltage is maintained within the limits that are safe for the aircraft.
FCX supplied the first modern 270 VDC power supply used on the first F/A-22 Raptor in 2000 and continues to support 270 VDC aircraft today both in the field and on the JSF assembly lines in the US, Italy and Japan.
270 VDC POWER CONVERTERS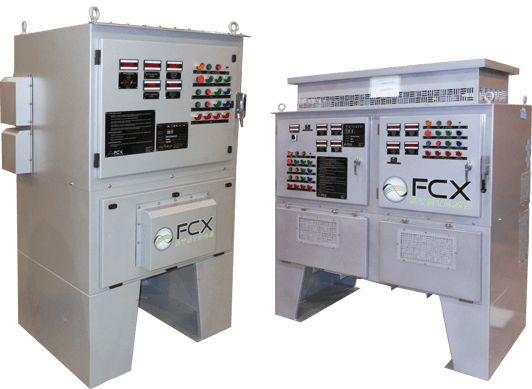 The performance of FCX Systems 270 VDC Power is flight line and production line proven - we are 270 VDC from the ground up. Installation sites include main production and test sites, such as: Lockheed Martin F-35 Assembly in Fort Worth TX, Navy F-35 T&E NAS Patuxent River MD, and JSF ITF Facility at Edwards AFB CA. FCX Systems precision 270 VDC equipment is the preferred and best power of choice for all 270 VDC applications.