Virgil Pase

Customer Service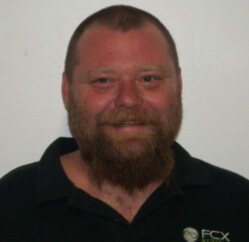 If you have ever had a need for information on an FCX product whether it be for technical information, installation, troubleshooting, parts, service, warranty coverage, or just today's temperature, you have spoken with Virgil.
If you never needed any of these things, you may not know Virgil.
Virgil has been with FCX for 16 years this month. He has progressed rapidly through the ranks from Production through Testing & Field Service to his current position in Customer Service. In this position, Virgil is one of the employees that interface directly with customers as a representative of FCX.
In all situations, from easy questions to the most irate and unreasonable customer, Virgil keeps his cool and resolves the problem. His smile and laugh is a beacon to everyone in the plant. You might wonder how he can take the heat. He is also a reigning Chili cook off champion.
Virgil has probably represented FCX in a positive way to more people than anyone else here. As if that were not enough he is also the primary producer of the 125 page Factory Acceptance Test (FAT) that accompanies each of the "Beasts" destined for a Lockheed Martin assembly line for the JSF F-35 fighter aircraft. This task alone requires one to two weeks of effort while maintaining the rest of his work load.
Virgil has a knack for diagnosing problems and guiding maintenance personnel to the source of a problem while explaining things in a manner that is easily understood.
We are fortunate to have Virgil as one of the faces of FCX and a very logical and slam-dunk choice for the Inaugural FCX Employee of the Month.