Greta Swanson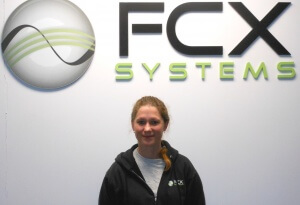 When on the production floor you will most likely find this individual working on a control harness somewhere in a unit because that is the specialty of this individual here at FCX. Not that Greta isn't very capable in other areas of production but control wiring is her passion. Greta is all about efficiency, detail, and accuracy.
Greta pulls each wire with pride and confidence as if each harness was a work of art. Her work is impeccable because of the work ethic she has and her desire for excellence in her own work and for FCX.  She knows that her name and FCX's name goes on every product that she builds. Greta repeatedly surpasses FCX labor estimate goals by completing her work in less time with the utmost accuracy and quality. Greta has also shown leadership and guidance to other newer employees on the production floor.
Greta has become the go to person when it comes to the most complicated control harnesses . Case in point, on the most recent Gray beast production run, she was able to complete the sophisticated control wiring that went into the gray beasts with labor hours well under previous similar jobs, and with accuracy, neatness, and consistency among units which is extremely important to the performance of these units.
Greta always stays focused on the task at hand and her work ethic and quality is contagious to those who work with her. FCX is a better company with Greta as part of our team.   Please join me in congratulating Greta Swanson as our FCX Employee of the Month for March, 2016.